Based on their position at the start of a tip, the dancers in each square are referred to as either Heads or Sides.

The couple facing the caller and the couple with their backs to the caller (where the caller is standing or where the music is coming from) are the Head Couples. The other two couples are the Side Couples.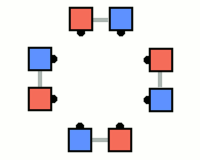 CALLER/MUSIC
The walls that the Heads are facing at the start of the tip are referred to as the "head walls", and the other two walls are referred to as the "side walls".