Based on their position at the start of a tip, the couples in each square may be identified by couple numbers.

The couple with their back to the caller (where the caller is standing, or where the music is coming from) is couple 1. The couple to their right is couple 2, and so on in promenade direction around the square (counter-clockwise, when viewed from above).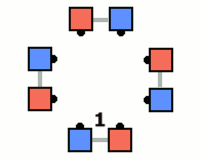 CALLER/MUSIC
"Couples 1 and 3" is equivalent to "Head Couples". "Couples 2 and 4" is equivalent to "Side Couples". When the meaning is obvious, some callers may omit the word "couples". For example, "1 and 3 do a Right and Left Thru".